The Pawington provides our Boarding pet guests with the highest quality of comfort and care. We make sure that every pet has a safe, fun and relaxing stay while boarding with us. Our highly trained staff is constantly cleaning, sanitizing, and providing superior care throughout your pet's stay. To ensure your pet has an unrivaled experience, our facility is staffed 24 hours a day, every day of the year.
Luxury Cat Suite (55 Sqft)
Our Luxury cattery suites provide your pet with the ultimate boarding experience possible including: Premium bedding, door high skywalk, window to view outside, 32" LED television & Webcam. Space Space Space! Both suites come with a double pane, wire mesh protect window! You will not find a similar suite for your cat in the entire Bay Area! Only 2 available at any time, so book in advance!
What sets this room apart:
55 Square Feet
Private Webcam with 24/7 access
Private 32″ LED television with Animal Planet for ambient sound & entertainment
Carpeted walkways and door high skyways for active cats
Window to view outside nature (with a second pane for safety)
Minimum of two 10 minute play sessions with Pet Handlers
Hideaway Den for peaceful rest & relaxation
Multiple Premium Beds in Suite
Discrete Litter Tray, changed daily
Glass Door with Privacy Blinds
Additional Guests receive 40% off
Cat Suite (20 Sqft)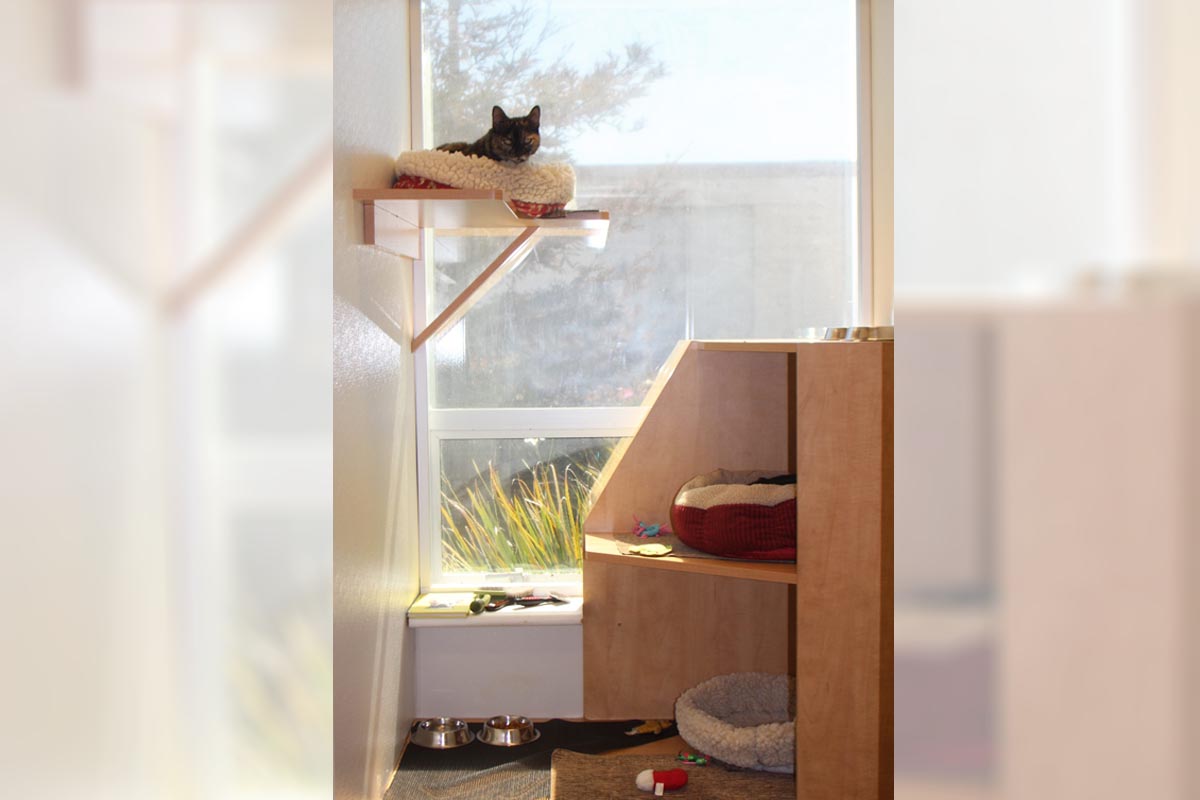 Our Cat Suites provide your feline friend with multiple levels of fun, as well as a hideaway den promoting relaxing sleep. *Window not in every Suite* These truly are one of a kind suites you won't find anywhere else in the Bay Area- possibly the entire country!
What sets this room apart:
20 Square Feet
Carpeted walkways and door high perches
Hideaway Den for peaceful rest
Hidden litter tray, changed daily
Additional Guests receive 40% off
Does not include TV or Webcam
ACTIVITY
DESCRIPTION
PRICE

Crazy for catnip

A toy filled with catnip for our pet to enjoy in their personal.

A toy filled with catnip for our pet to enjoy in their personal.
$4

House Kibble

Your choice of Natural Balance cat food. We still recommend Owners bring food from home.

Your choice of Natural Balance cat food. We still recommend Owners bring food from home.
$3 per meal

Cat Kong

A toy and treat dispenser in one. This fun and interactive toy is filled with salmon-flavored treats, tapping into the natural curiosity and hun

A toy and treat dispenser in one. This fun and interactive toy is filled with salmon-flavored treats, tapping into the natural curiosity and hunting instincts of your cat!
$4

Bedstime story

Have a soothing bedtime story read to your cat in their private boarding suite.

Have a soothing bedtime story read to your cat in their private boarding suite.
$6

Purrrrsonal playtime

Your cat will enjoy 15 minutes of personal playtime with one of our Pet Concierges.

Your cat will enjoy 15 minutes of personal playtime with one of our Pet Concierges.
$15